UK India Education Research Initiative (UKIERI)
---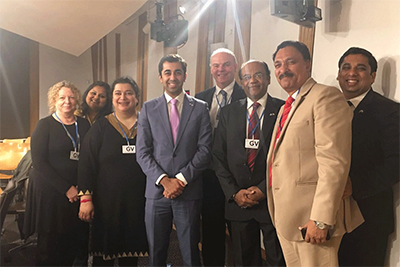 With Hon'ble Minister for Europe & International Development, Mr Humza Yousaf, MSP, BPS in Scottish Parliament, Edinburgh.
Skill Council for Persons with Disability has been established to skill persons with disability to enable them to earn their livelihood and lead a life of dignity in the process of mainstreaming. SCPwD proposes to cooperate and collaborate for the benefit of the Disability Sector in India & UK by sharing experiences, exchanging expertise and building linkages between UK and India in the area of skills for Persons with Disability (PwD).
SCPwD, India and Glasgow Kelvin College, Scotland have recently been awarded a project under UK-India Education and Research Initiative (UKIERI) to benchmark standards between India and Scotland in the area of Disability and create a Training Resource Pack for one Disability – Down's syndrome in the Job role of Food and Beverage service Steward from the Hospitality Sector.
The aim of the project is to
To provide employment to People with Disability in India , in the Hospitality by :
Developing a Training Resource Pack (TRP) for vocational training in 1 sector of Hospitality in one job role
Identification of minimum of 1 job role in one sector with regard to employability opportunity
Improve and increase employability of People with Down's syndrome in India.
Enable People with Down's syndrome in India to become independent learners.
Advise parents/caregivers on strategies which support independence in employment
Provide employer with resources towards sensitization of all staff in understanding the needs of People with Down's syndrome.
Agree with stakeholders the age/literacy parameters for PwD participants
Advise the Training Provider and the Employers on reasonable adjustments for e.g. health and safety, in the learning/vocational environment.
Recommend current specific tools, which support PWD in the training and at work
Seek commitment from established industry, throughout India such as Tata( Mr. Ramadorai), Lemon Tree Hotels (Mr. PatuKeswani, New Delhi) and RRR spinners (Mr GokulKrishnana , Tamil Nadu)
To explore any good practice in at least one of the sectors identified here in.